Nu Skin launched EcoSphere Multi-Purpose Cleaner to the Philippine market via an exclusive media gathering on October 15, 2021. The delightful virtual event introduced EcoSphere Multi-Purpose Cleaner as the company's latest product offering and is a powerful follow-up to its first home category entry under the EcoSphere brand, the first of which was the EcoSphere Water Purifier. 
EcoSphere Multi-Purpose Cleaner is a liquid cleaner that works thoroughly as it sanitizes and disinfects any washable surface by reducing up to 99.999% of certain bacteria when used pure. It features an innovative formula that contains effective ingredients that are not harmful to the skin. Additionally, it offers various dilutions to clean at different potencies for various applications.
The video presentation touched many of the attendees as it showed a mother's care and love for her offspring. Making sure they are safe while at the comforts of their home. Through this heartwarming video, EcoSphere hopes to showcase how a simple act of appreciation, care, and love is worth a thousand words. Indeed!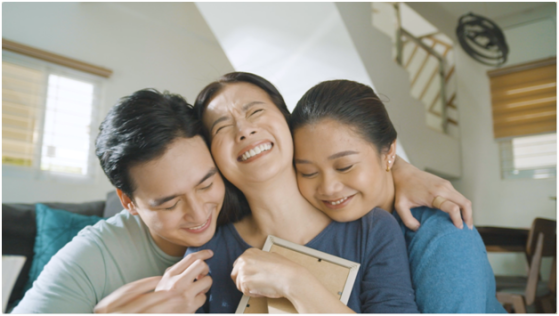 Having the virus in my home just very recently makes this product more useful and necessary. Imagine my panic and stress! While in quarantine, I made sure that every nook and cranny of my house is clean and virus-free. So an all-purpose cleaner like Ecosphere's is very handy. It will really make you feel safe.
Reasons to love Ecosphere's Multi-purpose Cleaner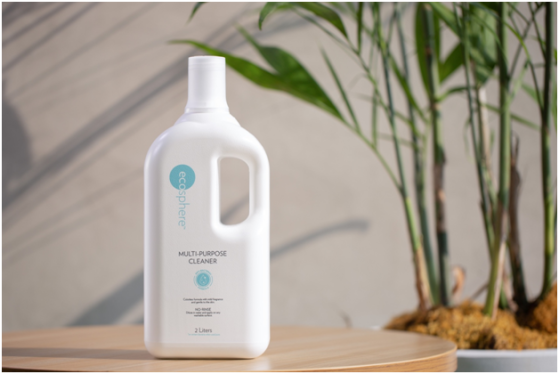 Eco-friendly formula – cost-effective with fewer bottles thrown away compared to ready-to-use cleaners

Greener profile – formulated with DIMETHYL 9-DECENAMIDE derived from bio-based sources, that cover a wide range of household cleaning applications.

Anti-bacterial formula – effective in reducing up to 99.999% of bacteria when used pure.

Gentle to the skin – water-based formula.

No-rinse – can be applied anywhere, on any washable surface, wherever you are. Rinsing is required on




surfaces that may directly have contact with food.

Versatile and effective cleaner – various dilutions can clean at different potencies for different applications.

Child-proof cap – this feature helps reduce the risk of children opening the cleaner and ingesting it.
Here is an illustration of how to use the cleaner properly: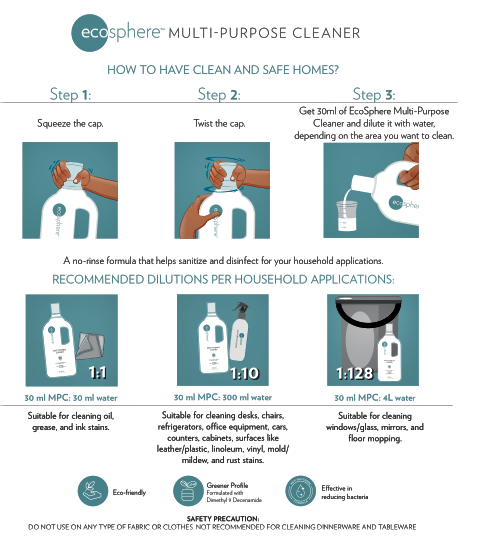 EcoSphere Multi-Purpose Cleaner Ingredients

DIMETHYL 9-DECENAMIDE — a revolutionary formulated solution designed for dilution to meet specific product needs for a wide range of household cleaning applications. Various dilutions can produce products for multi-purpose cleaning such as washing floors, windows, inks spills, sinks and countertops, and to any washable surfaces. It is derived from bio-based sources providing a greener clean in both household and industrial environments.
LAURAMINE OXIDE — a cleaning agent that acts as a surfactant that loosens and traps dirt, hence removing it from the surface that you are cleaning.
SODIUM LACTATE — provides pH regulation to clean surfaces without harming their natural state – the key elements for a multi-purpose cleaner formulation.
Mommshies, this Multi-Purpose Cleaner is really gentle on the skin. I love the subtleness of its smell as it doesn't have a strong perfume. It is versatile, eco-friendly, and effective. The perfect partner in making your home your haven.
EcoSphere Multi-Purpose Cleaner will be available first and exclusively in the Philippines starting 18 October 2021, with plans to roll out the product in the Southeast Asia Region in the coming months.
About Nu Skin
Founded more than 35 years ago, Nu Skin develops and distributes innovative consumer products, offering a comprehensive line of premium-quality beauty and wellness solutions. The company builds upon its scientific expertise in skincare, nutrition, and wellness, to continually develop innovative product brands that include the Nu Skin® personal care brand, the Pharmanex® nutrition brand, the ageLOC® anti-aging brand, and most recently, the EcoSphere home care brand. 
Nu Skin sells its products through a global network of sales leaders in Asia, the Americas, Europe, Africa, and the Pacific. In the Philippines, Nu Skin opened its flagship branch in Ortigas Pasig in 1998. As a long-standing member of direct selling associations globally, Nu Skin is committed to the industry's consumer guidelines that protect and support those who sell and purchase its products through the direct selling channel. Nu Skin International is a wholly-owned subsidiary of NSE, Inc., which is traded on the New York Stock Exchange under the symbol (NYSE: NUS). More information is available at nuskin.com.
Find us on Social Media 
Facebook: fb.com/nuskinphils

Instagram: @nuskinph