Local actress and now-mommy Jessy Mendiola is back to her workout sessions after taking a break due to her pregnancy.
Two months after Jessy and Luiz Manzano's first child, Isabella Rose, was born, the actress shared through an Instagram story that she is now back to her fitness journey.
On March 9, she posted on her Instagram story that she is starting to work out again, not to go back to her pre-pregnancy body or weight but to build a better body figure.
The actress shared that she learned to accept her post-pregnancy figure and challenge herself to move forward.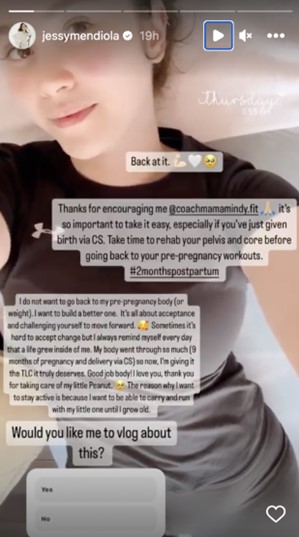 Jessy also admitted that it is hard to accept change sometimes, but she made sure to remind herself that a life grew inside of her.
"My body went through so much (nine months of pregnancy and delivery via CS) so now, I'm giving it the TLC (tender loving care) it truly deserves." she said.
The actress said that the reason she wanted to stay fit and active was for her to be healthy until her daughter grows up so that she could properly take care of her.
Photo Credit:
https://www.instagram.com/jessymendiola/