There is no denying that motorcycling has had a long, complicated relationship with gender. Traditionally seen as a hobby for men, motorcycling has long been a male-dominated activity. However, the industry is now seeing an influx of women riders, who are making their presence felt in the world of motorcycling. This blog post will explore the opportunities that apps like Angkas and Joyride have created for female riders, as well as the safety concerns that still need to be addressed.
Joyride and Angkas Women Riders
As the number of female riders has increased, so has the number of motorcycle-related apps. Angkas and Joyride are such apps that have made it easier for women to take up motorcycling as a hobby or even as a means of living. The app allows riders to book a ride, track their ride, and even chat with other riders while they are out on the road. This has made motorcycling more accessible to women, as they no longer need to worry about the hassle of finding and booking a motorcycle rental service.
For me, Mommshies, this is such a good thing to have as women feel safer and more secure when they ride behind them. No more worrying whether your chest is touching the back of the riders, yeah? The app also allows riders to track the route of their ride, so they can stay aware of their surroundings at all times.
Motorcycle Driving as a Living
Motorcycling as a means of living is becoming increasingly popular among women, as it offers them a sense of independence and freedom. Women riders are able to make a living out of the activity, as they can use the app to book rides and get paid for it. This has opened up a new avenue for earning an income and has given women the power to make their own decisions about their career paths.
The app also has features that make it easier for riders to get paid. Riders can track their earnings and cash out whenever they want. This makes it easier for women to manage their finances and plan their budgets accordingly.
Moreover, the app has a rating system in place, which ensures that riders can get feedback on their performance. This allows them to make improvements to their service and become more successful riders.
Meet Joy, my Joyride female rider
I have encountered a delivery app with a female rider but this is the first time I will be riding behind one. Imagine riding from Paranaque to San Juan. I was actually happy because I will not be uncomfortable with the long drive.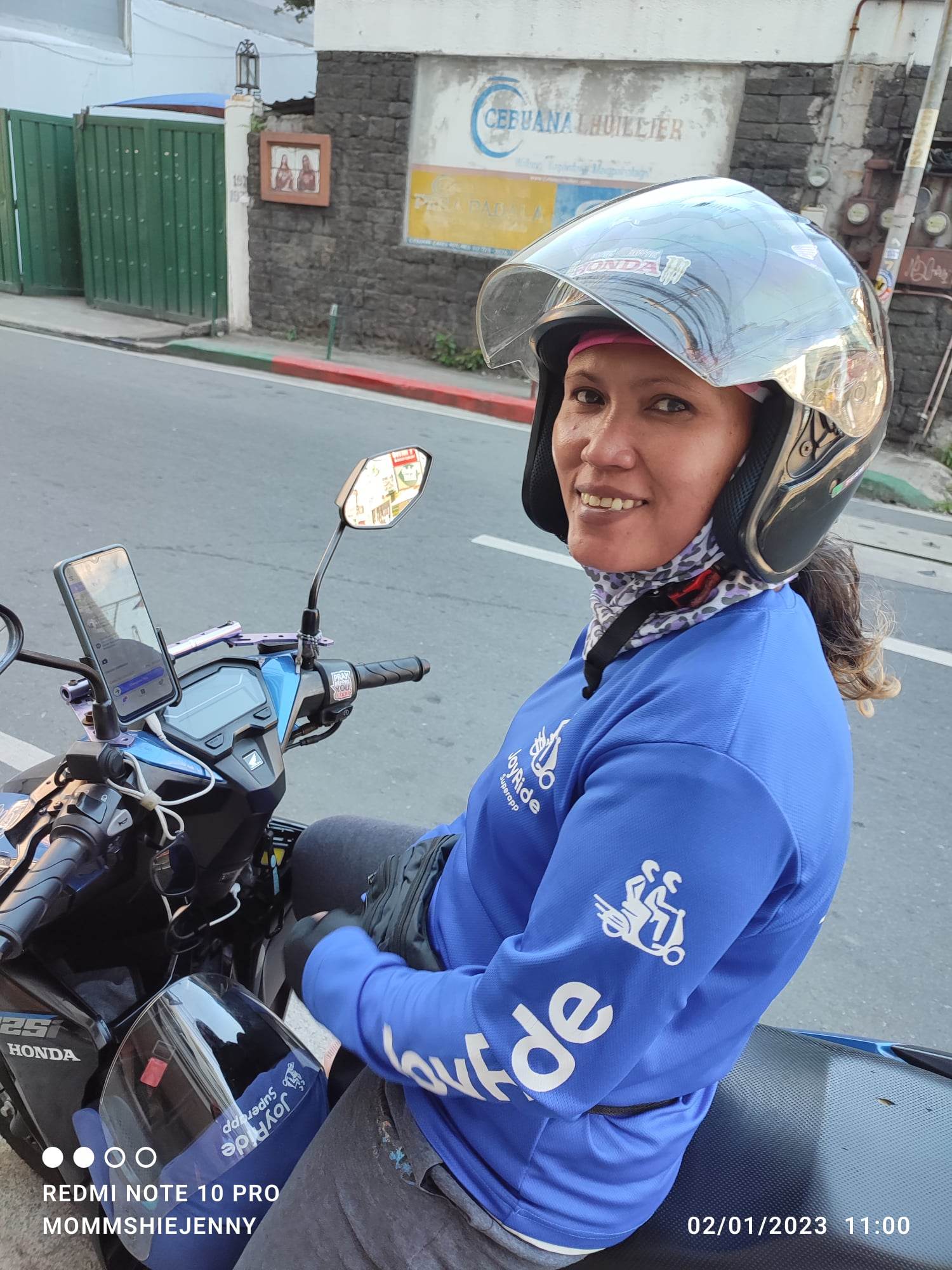 Joy is a 40-year-old mother to three kids all of which are studying. Her husband is also a rider. She works in the morning and her hubby in the afternoon when she returns home.  She's been doing this for a decade already. And the hubby supports her. I asked why she ended up driving a bike for a living – and her simple answer was – she wasn't able to finish school and this is the easiest job she can get.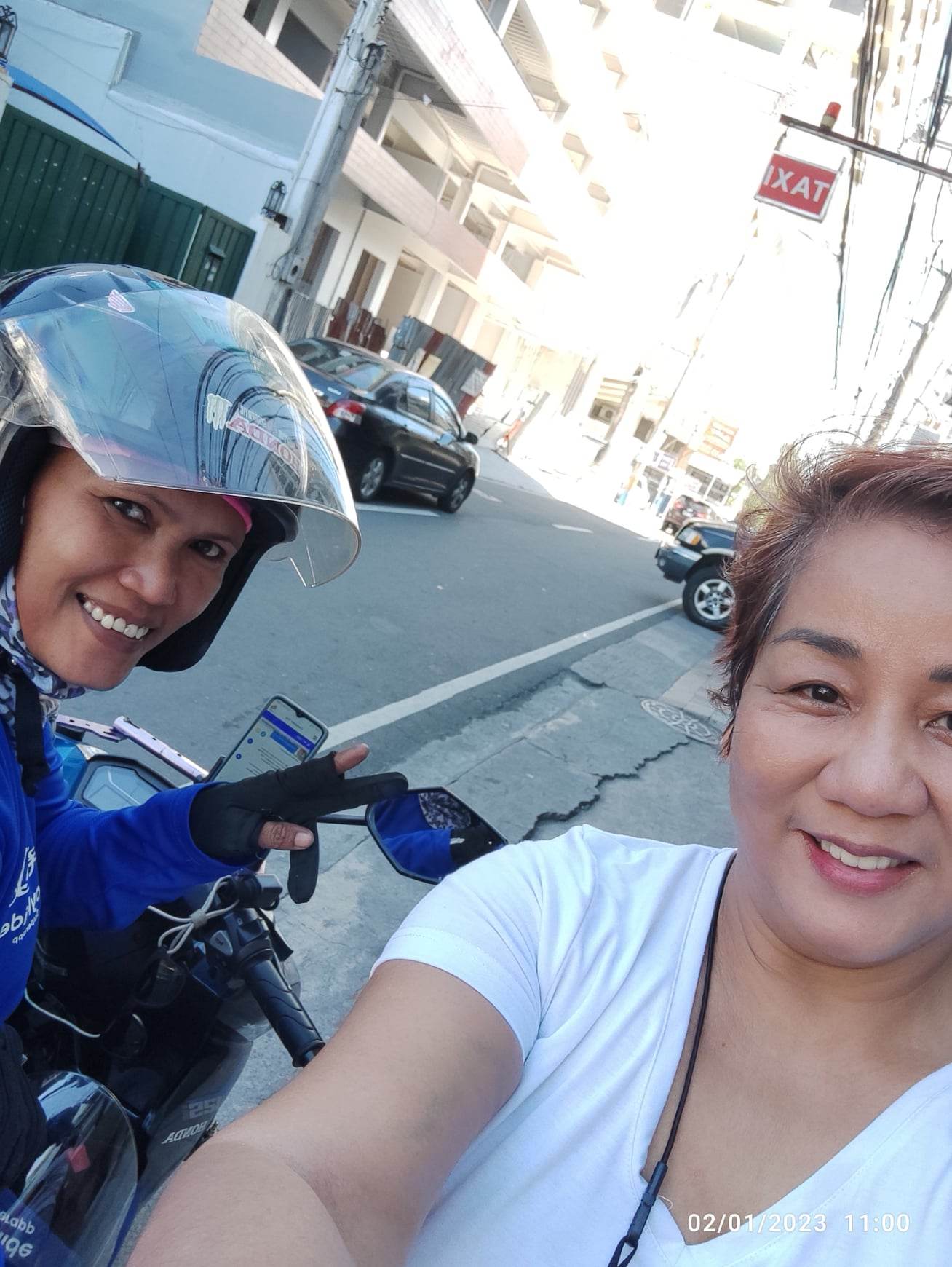 While traversing the road, I heard her call a friend to pick up one of her kids from school since she cannot do it because of a client (me). My respect and admiration for this woman.
Are Women Safe Driving Motorbikes?
Though the app has made motorcycling more accessible to women, there are still some safety concerns that need to be addressed. As with any other form of motorcycling, there is always a risk of getting into an accident or encountering dangerous situations. This is especially true for women riders, as they are often seen as easy targets for criminals.
To address these safety concerns, I'm sure Joyride and Angkas have implemented several measures to ensure that riders are safe while using the app. The app has a two-way authentication system, which ensures that the rider's identity is verified before the ride begins. The app also has a panic button, which riders can use to alert the authorities in case of an emergency.
In addition, the app has a feature that allows riders to track their rides. This allows riders to stay aware of their surroundings at all times and make sure that they are safe. This also allows them to report any suspicious activity to the authorities.
Though the app has taken several steps to ensure the safety of female riders, there are still some steps that riders can take to ensure their own safety. Women riders should always make sure that they are aware of their surroundings and be prepared to take action if necessary. They should also make sure that they are wearing the appropriate safety gear when riding, such as a helmet, gloves, and protective clothing.
Moreover, riders should always make sure that they are not taking unnecessary risks while riding. They should never ride in areas that are unfamiliar to them, and should always stick to well-lit areas. Additionally, riders should always be prepared to call for help if necessary.
At the end of the day, motorcycling is a fun and exciting activity that can be enjoyed by both men and women. With the help of apps like Joyride and Angkas, more women are able to explore the world of motorcycling and make it a part of their lives. By taking the necessary precautions, women can enjoy a safe and enjoyable riding experience.
As more riding apps continue to empower more female riders, the future of motorcycling looks brighter than ever. With the help of the app, more women are able to take up motorcycling as a way of life and make a living out of it. This is a major step forward for the industry and a sign of the growing acceptance of female riders in the motorcycling community.