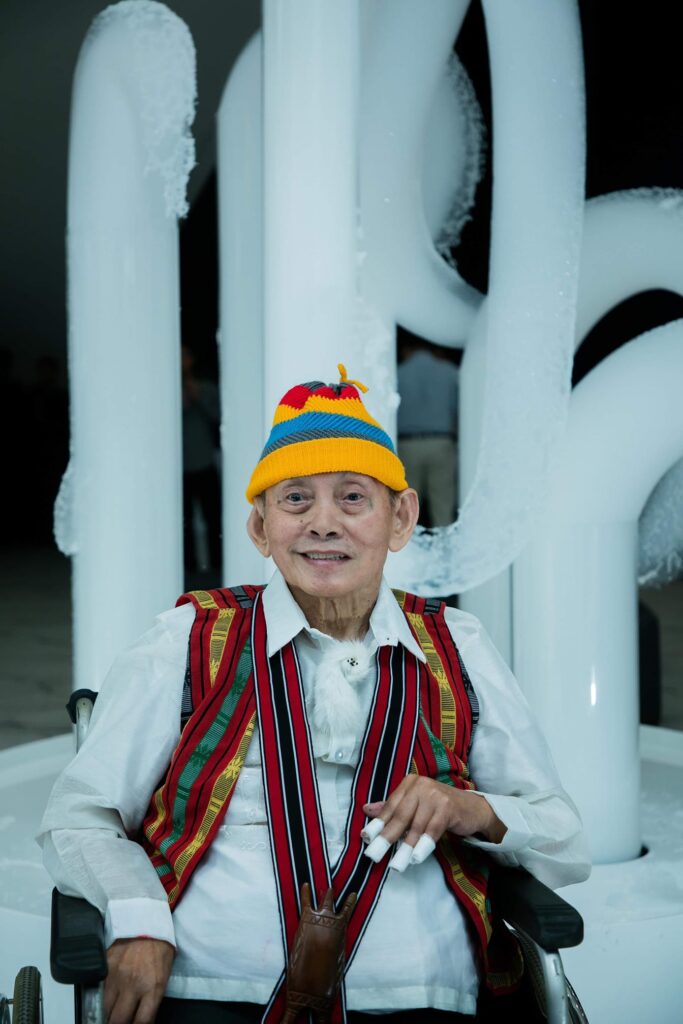 A LEGACY TO HONOR. David Medalla visited the BDO Corporate Center Ortigas during the inauguration of his sculpture, "Cloud Canyons No. 31," on August 31, 2019.
BDO Unibank honors Filipino artist David Medalla, who passed away on December 28, 2020. It commemorates Medalla's legacy with the continued display of his sculpture, "Cloud Canyons No. 31," at the lobby of its Corporate Center in Ortigas (CCO). "Cloud Canyons No. 31" found its way to CCO for bank employees, clients, and visitors to enjoy in 2019.
Before coming home to the Philippines, it was exhibited in the Hepworth Wakefield art museum in England when Medalla was one of the shortlisted artists for the inaugural Hepworth Wakefield Prize for Sculpture in 2016. It is made of plexiglas tubes, wood, fibreglass, water, soap, and oxygenators, and is part of a series often referred to as the "bubble machines."
Mara Coson, who oversees the BDO Art Collection, said of Medalla's passing: "David Medalla was magnetic. He lived a life that drew people in while he himself could not be contained. He left the world with stories so wild and infinite they can never all be told.
"Medalla was born in Manila in 1942, with literary and visual genius uniquely attributable only to his bright spirit. His biography is too vast for a short note, and is kept alive by the many who encountered him along his life's adventures, strangers and friends, periods from explorations of kinetic art in the 1960s and beyond to performances anywhere, and travel whether physical or otherwise.
He spent his life around the world, at home everywhere and still home was also the Philippines, where he died peacefully. "More than ever, we must make sure the bubbles of Cloud Canyons No. 31 continue endlessly and fully in our care—and most of all, welcome to the public to experience these clouds for always. We will do Medalla proud. "When you visit the bubble machine, I encourage you take a moment to wish David the best for his next life, as he dances with ease among the brightest galaxies."