Losing up to 100 strands of hair every day is normal. If your hair starts to shed more significant than usual, or if they do not grow back as they should, it can be a source of concern. Once the cause is detected, hair fall remedy or baldness cure for hair loss treatment can be easier.
While genetic condition like male pattern baldness is the main culprit for hair loss in the Philippines, the causes widely vary: genetic or hereditary hair loss, alopecia areata, male pattern hair loss and reactive hair loss.
What are the possible reasons why your hair is excessively shedding? Find out the 5 reasons why your hair might be falling out. Read more: https://bit.ly/35xfuDA
Reason 1: Hormonal imbalance
Hormonal imbalance can be a host of many health issues including those that manifest in physical appearances, like acne and hair loss. A byproduct of testosterone known as DHT or dihydrotestosterone, is the hormone responsible for hair loss, disrupting the hair growth cycle. It can either reduce the growing phase or increase the resting phase. Supplying your hair with a topical preparation of natural herbal extracts and essential oils may help address this.
Reason 2: Sudden Weight loss
Some degree of hair loss can happen upon rapid weight loss. Excessive hair shedding is one of the signs of nutrient deficiency. When calories and micronutrients are significantly reduced during your diet, these may trigger hair loss.
Reason 3: Pregnancy (Postpartum hair loss)
During pregnancy, your hair may look thick and healthy because of high levels of hormones. Once your baby comes out, your hair can immediately fall out all at once. That's because your hormones are getting back to normal. This condition is called postpartum hair loss. Certain natural hair fall remedies for hair regrowth with herbal extracts and essential oils can help solve this.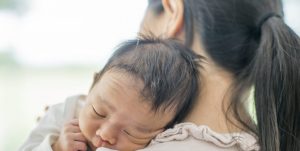 Image Source: viviscal.com
Reason 4: Pills
Taking contraceptive pills can influence your hormones. Women who are predisposed to hormonal-related hair loss or especially sensitive to the hormonal changes, can experience hair loss while using the pills or after they stop taking them. Hair shedding caused by pills are usually temporary and can be treated by a natural topical scalp lotion rather than some home remedies for hair growth.
Reason 5: Age
As we age, hair health begins to change. Age can influence the life cycle of hair follicles, slowing the rate of hair growth. However, it is important to know that hair loss is a normal part of aging. But natural products with ingredients that help promote hair growth may be used to delay hair loss or better yet, address graying hair.
Unlike other treatments, using natural ingredients for your hair is exceptionally safe. In the Philippines, NOVUHAIR® has sustained its market leadership and bagged as the leading hair loss treatment in 2019 (Euromonitor Passport Data 2019).
NOVUHAIR® contains only natural ingredients and essential oils to prevent and reduce hair loss such as ginger, moringa, Indian Pennywort, Virgin Coconut Oil, Panax Ginseng, Indian Gooseberry, Aloe Vera, black pepper, Biotin, Vitamin B5, Shikakai, lemongrass, peppermint, safflower, lavender, rosemary and more. NOVUHAIR's 19 natural ingredients work in synergy to help prevent and remedy the early warning signs of hair loss – excessive hair fall, thinning hair and bald patches.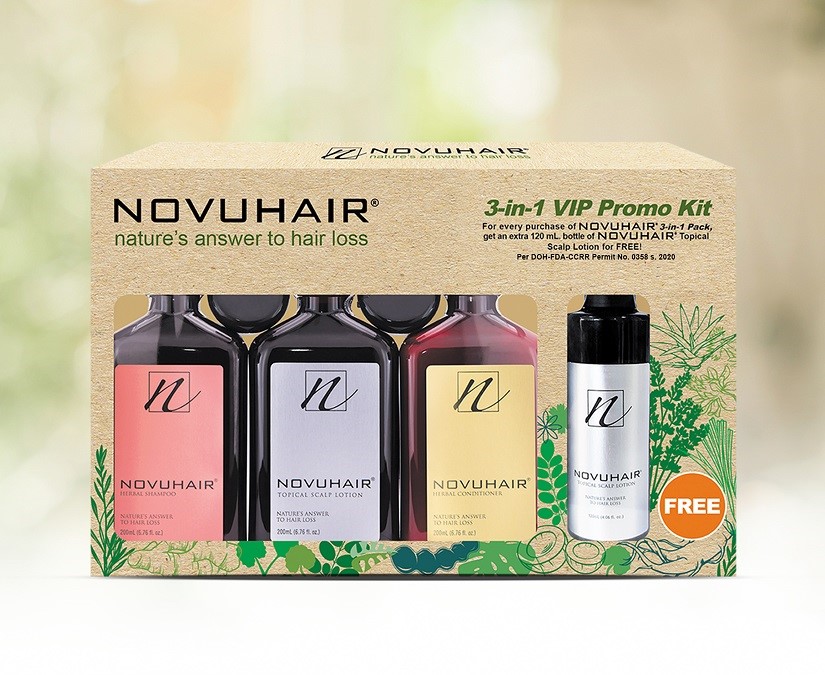 Save P1,100 with NOVUHAIR® 3-in-1 VIP Promo Kit available at Mercury Drug stores nationwide.
Checkout: https://bit.ly/31NszaI
To know more about NOVUHAIR®, visit @NovuhairOfficial on Facebook or www.novuhair.com.