It is really a crazy world now that we are in this pandemic globally. People are scouring for the best medicine or supplement that can be taken to avoid the virus.
Vitamin C has been at the forefront in increasing our immune system to ward off illnesses. And Zinc has also been read about and taken a lot because of its contribution to beating this Covid.
But there are also food supplements that can be important to one's health. Take Quercetin for one. What exactly is Quercetin and what does it do to the body?
It is said to be found in leafy green vegetables like Talbos ng Kamote, and it is said to boost our body's immune system. Very crucial in fighting Covid 19 then. But what if we can't find any veggies or we simply are not keen on eating vegetables? How can we get the full value of Quercetin for the whole family?
It's a good thing that Dr. Zen's has got us covered. Dr. Zen's Research, Inc. is a subsidiary of InnoGen Pharmaceuticals, Inc., a trusted provider of innovative, high quality, and reliable medical devices and over-the-counter products.
Below are the benefits we can get from taking Quercetin.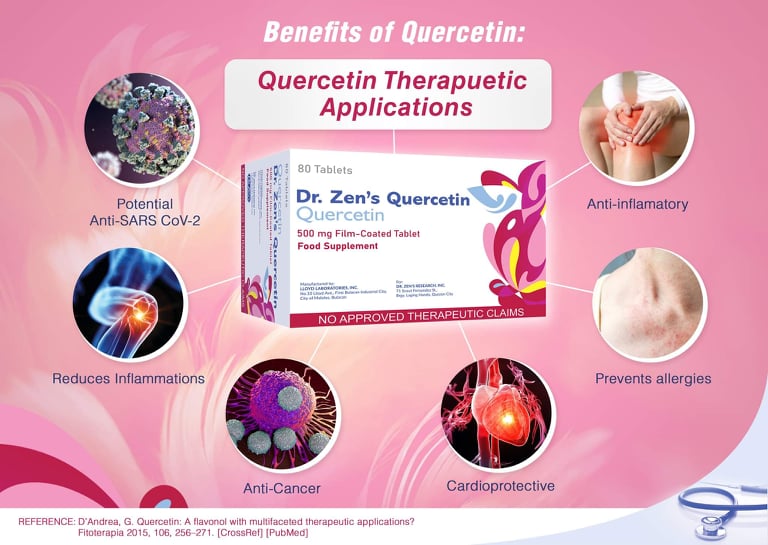 Dr. Zen's Research Inc. Quercetin is manufactured by Lloyd Laboratories, with more than 30 years of manufacturing reputation here in the Philippines, ensuring you of only the best, top-quality, and safest products for everyone.
For only 1,440 per box of 80, you can be confident that you are protected.
Dr. Zen's Quercetin is available in all Mercury outlets nationwide.
For more promos, visit Dr. Zen's Facebook page https://www.facebook.com/drzensph.