One of the most exciting things that could ever happen to us is having a car we can proudly call our own. I personally experienced the excitement when I had my first car.
The newly launched Nissan Almera is more than just a means to get us from one place to another. With bolder design elements, it's a car that matches the go-getter attitude of the person behind the wheel. Stylish and smart, driving an Almera is a statement that you are ready to take on the next chapter of your life.
Just like anyone who goes through their first jobs, the all-new Almera comes with a lot of firsts. For starters, it comes with Nissan Intelligent Mobility (NIM) features—a first in the passenger car segment.
It's a suite of monitoring and intervention technology, which gives car owners an extra layer of driving confidence and safety, so they can focus on enjoying the ride. These features are helpful, especially for yuppies who have just learned to drive. On the road, every little thing that helps drivers get safely from one point to another is a big plus.
The NIM features include the Intelligent Forward Collision Warning, which immediately warns drivers with an indicator and an audible alert when it detects any sudden movement from another vehicle, helping reduce or avoid any untoward risk of crashing into or bumping the car in front of them.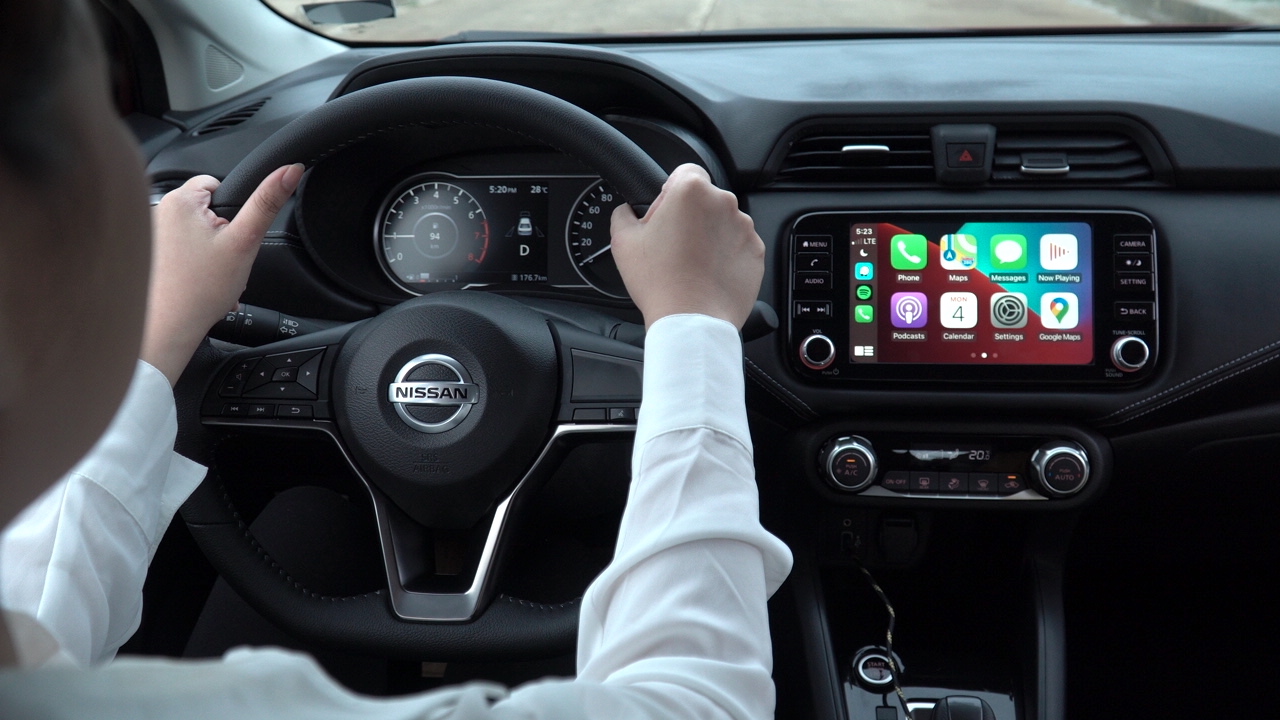 Another useful NIM feature is the Intelligent Forward Emergency Braking, which alerts drivers and applies light, automatic braking (if necessary) to avoid any unfortunate collision with vehicles or pedestrians.
Likewise, the Blind Spot Warning works similarly and in tandem with the aforementioned features, in which it assists drivers to avoid a collision, this time by detecting vehicles in the blind spot area when changing lanes.
Some of us find parking a vehicle or getting out of a parking spot to be a challenge. This makes the Rear Cross-Traffic Alert and the Intelligent Around View Monitor all the more helpful. The former is a NIM feature that makes use of the car's radar sensors to detect an approaching vehicle from behind. The latter, on the other hand, displays various camera views (including a bird's-eye view of the vehicle), which allows drivers to quickly understand the vehicle and parking space orientation. Both features aid drivers to get into and out of any challenging parking situation safely and with ease.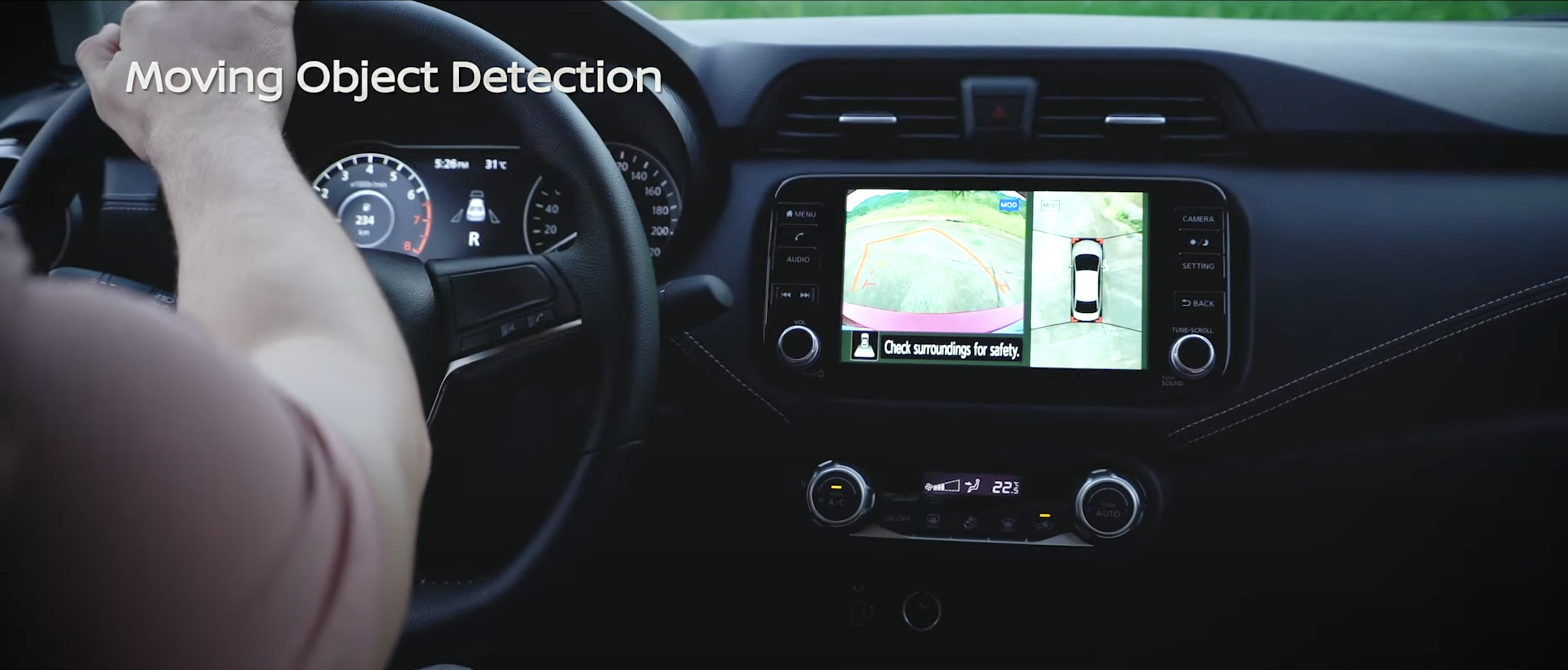 The Nissan Almera boasts of advanced Nissan Intelligent Mobility features such as the Intelligent Around View Monitor with Moving Object Detection.
What's great about the NIM features is that they work to prevent any untoward incidents in the background, with no added distractions to drivers, so they can have the peace of mind they need while on the road.
The all-new Almera delivers greater power and better fuel efficiency, too, thanks to the segment-first 1.0L turbo engine. This means drivers can enjoy the best of both worlds with exciting, turbocharged acceleration and performance with an outstanding fuel efficiency of 23.3 kilometers per liter. With Almera, a better driving experience doesn't mean a compromise on practicality.
The all-new Almera also has a sleek and comfy design ideal for first-time car owners, start-up families, and even those looking for a sensible second vehicle.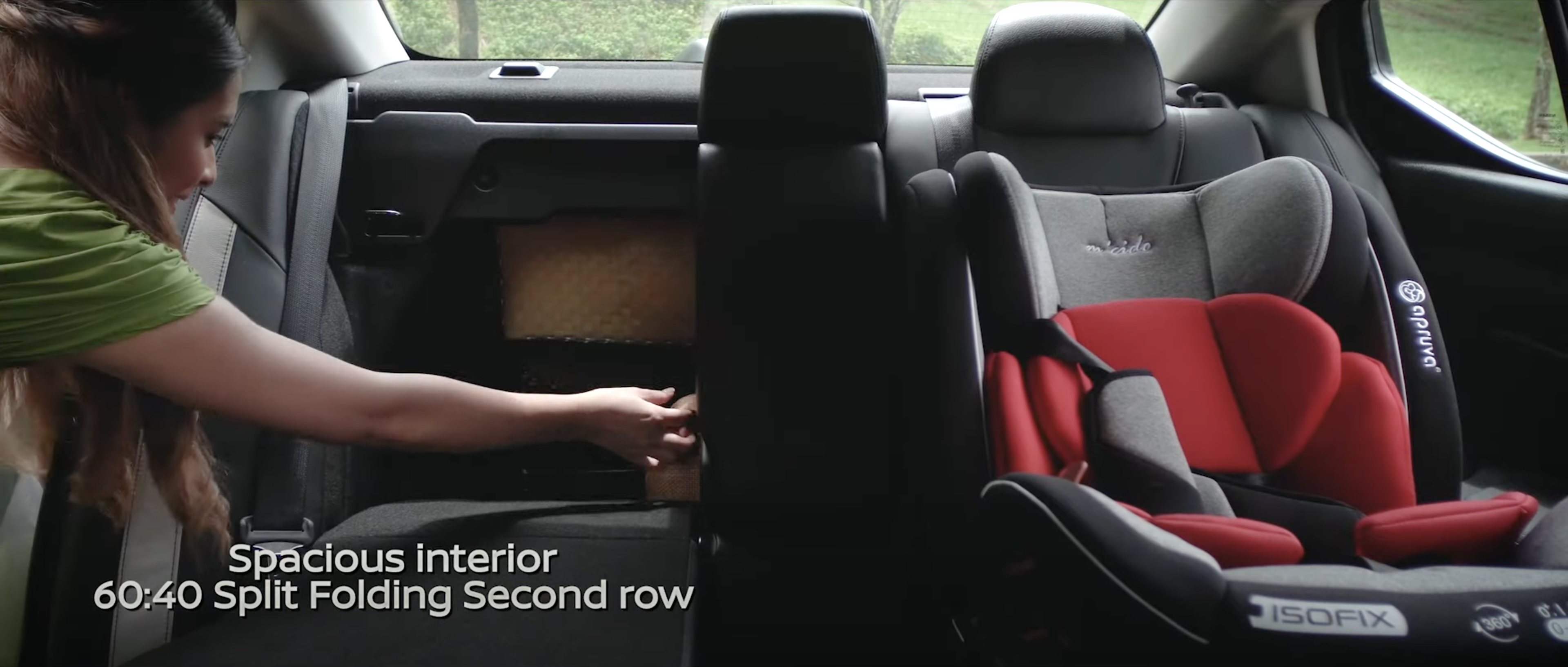 The Nissan Almera has a spacious interior perfect for new additions to the family.
It has an exciting look that features lower, wider, and longer exterior dimensions that give it a sporty and dynamic feel. When it comes to a car's spaciousness, every inch matters. After all, this could very well spell the difference between being able to fit that extra luggage on the way to a leisurely trip and leaving it behind.
Obviously, it's important to look at what's under the hood of a car, but the exterior look of the car matters a lot, too. For Nissan Almera, every detail has that powerful and stylish look, making it versatile enough to bring to any kind of trip.
The all-new Almera's dashboard is as stylish as the rest of the car's interiors, with the 8-inch Advanced Touchscreen Display with Apple CarPlay at the center, allowing drivers and passengers to access and connect to the Almera's infotainment system with ease. With just a couple of taps on the screen, anyone is able to blast out that road trip playlist from their phones or check out the route to their next destination on their preferred navigation app.
To top it all off, the Nissan Almera starts at just P728,000 and comes with a segment-first vehicle warranty of five years or 150,000 kilometers, or whichever comes first, for the VE and VL variants.
It also comes in six awesome colors that allow everyone to express their personality: from the loud Cayenne Red and Premium Corona Orange, the sophisticated Gun Metallic and Brilliant Silver, to the more subdued yet eye-catching Galaxy Black and Pearl White.
All of this is to say that the Almera is a cut above the rest in the passenger car segment—without even trying. So if you're still on the fence about which car to get for your first ride, look no further than the all-new Almera. With its impressive design, thrilling performance, and smart features, the Nissan Almera is exactly what you need—a car that could keep up with your lifestyle as you explore the world and dare new beginnings.
The all-new Nissan Almera is now available in all Nissan dealerships nationwide. Check your nearest dealership's health and safety guidelines first before scheduling a test drive. Click here to know more on how the Nissan Almera empowers people to dare new beginnings: And for more information on the Nissan Almera, visit https://www.nissan.ph/vehicles/new/almera.
For more information on Nissan Philippines Inc., visit nissan.ph and the Nissan Philippines Newsroom. You can also follow us on Facebook, Instagram, and Twitter, and see the latest videos on Youtube.
For more information about Nissan's products, services, and commitment to sustainable mobility, visit nissan-global.com. You can also follow our Nissan Global accounts on Facebook, Instagram, Twitter, and LinkedIn and see all our latest videos on YouTube.
My first car now has a new owner and maybe it's time for me to get a new one. A new car, a new beginning. And Nissan Almera might just be the one I need.