Manila, Philippines – Staying in has become the new normal, and this can either be overwhelming or plain boring. Adjusting might mean developing a new set of routines to make life worthwhile and fulfilling. But this doesn't mean pressuring yourself to get a lot of work done from all the time you have. It might just be good for your overall well-being to still find something to do and sustain a certain amount of productivity.
As you plan for your next adventure or prepare for the opening of school or work, here are different ways you can utilize time differently while at home:
Start-up your passion project or a small, seasonal business
Whether you are a student or a member of the working class, you can make use of this time by working on a passion project. Have you been meaning to open a cookie business? This is the time to heat up those ovens, package your own cookies, and print your very own creative labels to level-up your brand while leaving a great impression on your customers. Have you always thought of writing a novel? You have no excuse to not switch on your laptop and start working on that masterpiece from the comfort of your living room. You might also consider having a virtual garage sale via online marketplaces such as Carousell, or just through your own Facebook and Instagram accounts, and sell your clothes, books, and other pre-loved items online. Pro-tip: It helps to have a curated feed to display items for sale. With free designing apps such as Canva and Gravit Designer, let your visual editing skills and a keen eye for aesthetics do the trick.
Get a part-time job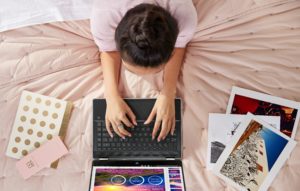 These days, there are a lot of web-based jobs that you can take on outside of your schoolwork or day job. Do you have an eye for design and know your way around Adobe apps? There are a lot of projects out there for graphic artists who can create content on their laptops. Know how to write, edit, or transcribe? There are many articles, academic initiatives, and studies that are in need of your skills. Even clerical and administrative work like filing and encoding is also available online. You may check out various job-search websites such as Upwork and Freelancer to help you look for the part-time gig of your dreams. Those with a passion for teaching might also consider creating educational blogs or online tutorials, especially now when parents and their kids have more time to engage in different digital workshops. According to the New Asian Learning Experience Study done by HP Inc., 70% of Filipino parents are willing to spend on extra classes or activities for their children outside of regular school work. So this could be your chance to gift our future generations with knowledge and skills that they will need for their future.
Learn a new skill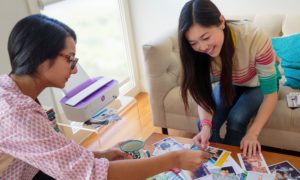 According to the IDC Future of Work research commissioned by HP Inc., millennials or Gen-Zs view technology not just as a utility but as a way of life, making it easier to learn new things with your handy laptop or printer at the ready.
Whether you're still on school break or working at home, time usually spent in traffic can be put to use in upskilling yourself. Attend a special online class or go on self-study via video tutorials on topics you have long been interested in.
HP LIFE is one of the options you can consider. It's a global online program providing business and IT skills training free of charge to people all over the world. The self-paced courses and online community are designed to help users grow their business and IT skills through modular, interactive, and informative and practical exercises. The courses range from starting a small business to raising capital, marketing, and design thinking.
For those looking to pick up a new hobby, free masterclasses are out there on almost every topic imaginable, from cooking, dancing, and fitness routines to DIY crafts, music lessons, and life hacks.
 Reorganize and dress-up your place
It's understandable why new trends of tidying up were easily picked up by many. It redefined reorganizing as something fulfilling and a stress reliever rather than a chore. With a quick search online, you can learn different tips and tricks to life-hack your way to a more beautiful, organized home. This could include adding printed candid shots of favorite memories with your loved ones and cute little furkids to your walls.
Fun, family time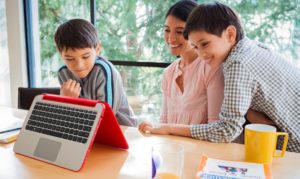 Bonding with your loved ones can be fun even when you're stuck at home. You can do a family movie and TV show marathons–from the RomCom tandems of KathNiel, LizQuen, and JaDine to the Filipino Fantasy series, "Encantadia" which is having its rerun now. You can also challenge your kids to print, create and discover at home with HP Print, Play and Learn, a treasure trove of free, instant playtime ideas with your kids. You can also cook together and learn mom's famous Adobo and Menudo recipe. You can also all work on your fitness, and do group exercises like a morning routine. The possibilities are endless!
To make the most of your time, let technology be your learn, earn, and work from home buddy. Find the perfect deal for you with the latest promo offerings from HP Philippines:
Extended until July 31, HP will be giving away up to PHP 7,000 worth of free Lazada vouchers for every purchase of any participating laptops such as the recently launched HP Spectre x360 and HP Pavilion x360. More details can be found here.
Enjoy HP voucher discounts for your work from home and learn from home printing essentials. Get a P500 voucher discount for every purchase of any participating HP DeskJet Ink Advantage Printer and P1,000 voucher discount with free delivery service for any participating HP Smart Tank printer. Promo lasts until June 30. More details can be found here.
To ensure the quality, safety, and environmental standards of your HP Printer, HP is also offering free delivery services on selected Original HP Supplies within Metro Manila and Central Visayas until July 31. More details can be found here.
You may visit the HP flagship store through Lazada's website or directly at the shopping portal's mobile app to browse HP's lineup of laptops as well as printers and original ink supplies available online.
HP delivers purposeful technology that equips Filipinos with mobility, flexibility and security, whenever and wherever they need it. For more details, please visit your nearest HP Authorized Premier Reseller or log on to HP.com.